December 2022 NAPOLCOM Exam Results
The Napolcom administered the PNP Entrance Test and Promotional Exam (Promex) on December 3, 2022. The NAPOLCOM exams for PNP Entrance and Promotional categories are scheduled twice a year to cater to the growing number of aspiring police enforcers and officers.
The exams were taken by over 30,000 individuals, both civilians and police, across various designated testing centers nationwide. Specifically, 21,403 individuals took the PNP entrance exams while 10,861 took the promotional exam categories.
Based on the release dates of previous exams, it is anticipated that the results for the December 2022 NAPOLCOM PNP Entrance Exam will be published in March 2023, which is three months after the examination.
The December 2022 National Police Commission (NAPOLCOM) exam results include the complete list of passers, top 10 examinees, and performance of schools summary.
The December NAPOLCOM PNP entrance and promotional exams were administered at testing centers located in Makati, San Fernando (La Union), Tuguegarao, Angeles (Pampanga), Cabuyao, Calapan, Iloilo, Cebu, Tacloban, Calbayog, Pagadian, Zamboanga, Cagayan de Oro, Davao, Koronadal, Baguio, Butuan, and Cotabato, and in the provinces of Batanes, Cavite, Quezon, Albay, Kalinga, and Tawi-Tawi.
Napolcom Exam Results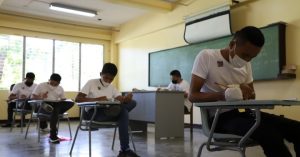 List of Passers – PNP Entrance
Roll of Successful Examinees in the
DECEMBER 3, 2022 PNP ENTRANCE/PATROLMAN QUALIFYING EXAMS
Released on March 2023
Stand by… Results are expected very soon… 
PNP Entrance Exam Results from 2018 to 2022
Month/Year

Passer /

Total Examinees

Passing

Percentage

December 2022

TBA

TBA

April 2022

6,953 / 20,706

33.58%

Nov-Dec 2021

2,614 / 19,063

13.71%

July 2021

919 / 7,325

12.55%

October 2019

3,684 / 34,984

10.53%

April 2019

5,121 / 32,972

15.53%

October 2018

3,742 / 32,912

11.37%
Verification of Rating
After the release of results, December 2022 PNP entrance and promotional examinees (whether they passed or failed) can check their rating through the NAPOLCOM official website using the Online Verification of Rating page. This service is typically available a few days after the results are posted. To access their rating, examinees need only provide their application number as instructed on the website.
Examinees will receive a Report of Rating (RR) by mail at their provided mailing address. Meanwhile, verification of their rating can be done in person at the Examination Division of the Personnel and Administrative Service (PAS) in the NAPOLCOM central office. If an examinee did not receive their RR, they can request a certification from the same office for a fee of PHP 150.00.
NAPOLCOM Examination Coverage
The three-hour examination consisting of objective-type/multiple choice items
covers the following subject areas:
General Information
Philippine Constitution and History
PNP Law and History
Criminal Justice System
Current Events
Social Awareness and Value Judgment
Vocabulary
Comprehension
Grammar
Quantitative Reasoning
Basic
Concepts
Problem-Solving
Skills
Logical Reasoning
Verbal
Non-Verbal
Like the previous Exam, The PRCBOARDPH will furnish dependable updates prior to the results' release. Test-takers can anticipate the tentative or actual release date on this page. Keep an eye on this page for real-time updates on the NAPOLCOM PNP Entrance and Promotional Examinations for 2022. results. For additional information, visit PRC's official website.