March 2023 LET Results
It's exciting to learn that the complete list of LET passers for the March 2023 exam will be available for viewing. Yes, you read that right, dear future teachers! The results will be released by PRC between 25-41 working days after the exam, covering both the elementary and secondary levels. In addition to the passers list, the top 10 examinees will also be announced. Based on PRC Resolution No. 1589 series of 2022 entitled 'Schedule of the Licensure Exam for the Year 2023', the results for the March 2023 Licensure Exam for Teachers (LET) are anticipated to be published on or before May 19, 2023, which is 41 working days after the exams. In previous releases of 2023 board exam results, PRC has typically posted them between 3:00 PM and 7:00 AM. The LET results for March 2023 will contain the complete list of successful examinees, top 10 performers, and a summary of school performances.
Summary of  LET RESULTS 2023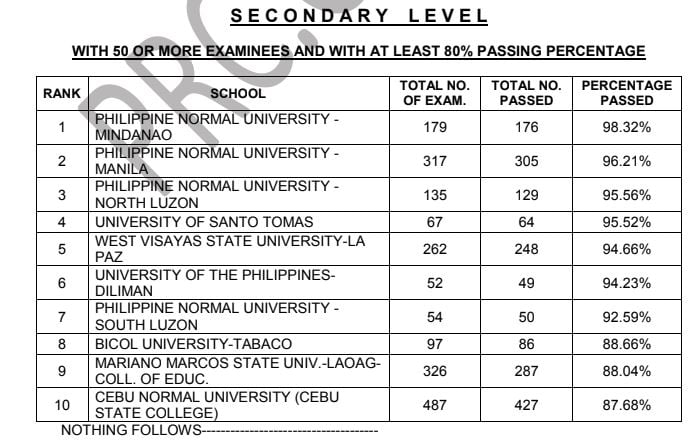 On March 19, 2023, the Board Exam for Teachers was administered at various testing centers located in several cities across the Philippines, including Metro Manila, Bacolod, Cebu, Davao, Iloilo, Legazpi, Pampanga, Tacloban, and Zamboanga, among others. The Board of Professional Teachers is chaired by Dr. Rosita L. Navarro and assisted by Dr. Paz I. Lucido as Vice Chairman, and two members, namely, Dr. Paraluman R. Giron and Dr. Nora M. Uy.
Registration Schedule and Requirements
The online appointment schedule for obtaining the Professional ID and Certificate of Registration for newly licensed Professional Teachers (LPTs) will be announced on the following dates: To register for the first time, please visit the PRC official website at https://online.prc.gov.ph/ and follow the steps for online registration. The following are the requirements for registration:
Notice of Admission/NOA (for identification purposes only)
Duly accomplished Oath Form or Panunumpa ng Propesyonal
Two (2) pieces of passport-sized ID photos in white background and with complete name tag
Two (2) sets of documentary stamp
One (1) piece short brown envelope
PRC emphasized that passers must register in person and affix their signature in the Roster of Registered Professionals.
How to verify my board exam rating?
The PRC Board of Professional Teachers will make the verification of ratings and test results for the licensure exam for teachers available online a few working days after the posting of the results. Those who pass the exam can check their board examination passing rate using the Verification Page on the PRC official website. To access this page, passers need to provide their exam name, date of examination, application number, first name, last name, and birth date.
Coverage of Examination
The subjects included in the licensure exam for Teachers (both elementary and secondary) held in March 2023 were as follows: General Education (GenEd)
English – Study and Thinking Skills, Writing in the Discipline, Speech and Oral Communication, Philippine Literature and Master Works of the World
Filipino – Komunikasyon sa Akademikong Pilipino, Pagbasa at Pagsulat sa Panananaliksik at Masining na Pagpapahayag
Mathematics – Fundamentals of Math, Plane Geometry, Elementary Algebra and Statistics and Probability
Science – Biological Science – General Biology, Physical Science with Earth Science
Social Sciences – Philippine Government New Constitution with Human Rights, Philippine History, Basic Economics, Taxation, Agrarian Reform, Society, Culture with Family Planning; Rizal and other Heroes, Philosophy of Man, Arts, General Psychology and Information and Communication Technology
Professional Education (ProfEd)
Teaching Profession, Social Dimensions of Education
Principles of Teaching, Educational Technology and Curriculum Development
Facilitating Learning, Child and Adolescent Development
Assessment of Student Learning, Developmental Reading
Field Study and Practice Teaching
Specialized subjects were covered in the examinations for the specialization in English, Filipino, Biological Sciences, Physical Sciences, Mathematics, Social Studies and Social Sciences, Values Education, MAPEH, Agriculture and Fishery Arts and Technology, and Livelihood Education.
When is the next LET?
Below is the schedule for the 2023 Licensure Exam for Teachers:
| Date of Exam | Start of Application | Deadline of Application |
| --- | --- | --- |
| March 26, 2023 | December 26, 2022 | February 27, 2023 |
| September 24, 2023 | June 23, 2023 | August 24, 2023 |
Here's summary of teachers board exam (LET) in the past 17 exams
| Month/Year | Examinees | Passers | Passing Rate |
| --- | --- | --- | --- |
| October 2022 | 231,002 | 120,863 | 52.32% |
| June 2022 | 37,340 | 18,860 | 50.51% |
| March 2022 | 39,284 | 17,848 | 45.43% |
| January 2022 | 38,150 | 20,811 | 54.55% |
| September 2021 | 26,589 | 15,201 | 57.17% |
| September 2019 | 228,963 | 83,152 | 36.32% |
| March 2019 | 157,877 | 31,930 | 20.22% |
| September 2018 | 217,332 | 79,212 | 36.45% |
| March 2018 | 134,996 | 36,710 | 27.19% |
| September 2017 | 187,529 | 70,824 | 37.77% |
| March 2017 | 126,499 | 24,082 | 19.04% |
LET Reviewer 2023
Review for LET with our latest and updated reviewers that can be downloaded for FREE. You can also try our online exam.
LET Reviewer 2023: Download
Online Exam: Try
Like the previous LET, The PRCBOARDPH will furnish dependable updates prior to the results' release. Test-takers can anticipate the tentative or actual release date on this page. Keep an eye on this page for real-time updates on the Teacher board exam results. For additional information, visit PRC's official website.